Intressant läsning i Alicante News från januari i år gällande huruvida ett utav Louis Vuitton mönster har förvärvat särskiljningsförmåga (dvs använts i sådan grad att det kan få varumärkesskydd). Det gäller följande rutmönster: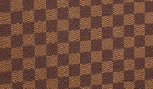 I fallet T-275/21, DEVICE OF A CHEQUERBOARD PATTERN (fig.), EU:T:2022:654 från den 19 oktober 2022 står det klart att Louis Vuitton inte lyckats visa att mönstret var tillräckligt inarbetat.
Liesbeth Marijnissen (Member of the Fourth Board of Appeal of the EUIPO) skriver följande rättsfallskommentar i Alicante News:
"The decision of the Court reaffirms that proving acquired distinctiveness through use for nontraditional marks is difficult, particularly for more recent registered EU trade marks with, or claiming, protection in numerous Member States. For trade mark proprietors and their representatives, this is a rigorous, timely and costly procedure, with a frustrating end result when the lack of sufficient evidence for a few Member States means that the mark fails for protection in the whole EU".
Vill du veta mer kan du läsa hela artikeln här (sid 11).
Behöver du hjälp med ditt varumärke? Vi hjälper dig med allt som rör ditt varumärkesskydd till exempel att registrera varumärke och då registrera varumärke i Sverige, registrera varumärke i EU och registrera varumärke internationellt.
Dessutom hjälper vi dig med mönsterskydd och domännamnstvister. Du kan också besöka våra andra sajter https://monsterskydd.se/ och https://domantvist.se/.
Kontakta oss idag för att få snabb hjälp till ett bra pris.
Tips! Glöm inte att spana in vår andra hemsida registrera-varumärke.nu.